Reviewing Finger Spools
By Lesley Harper | Equipment
I get asked many times about finger spools as I've been happily using one for a few years now.
Apeks have just launched (Dec 2014) 3 very nice spools reels in anodised aluminium, available in three colours and lengths. 15M purple, 30M green and 45M blue.
Inspired by technical diving but versatile enough to be used in a range of diving applications, the new LifeLine spools are made at the Apeks UK factory and are constructed from tough, anodised aluminium. Unlike other spools on the market which are often formed from two separate halves and could be prone to failure, each Apeks spool is machined from a single piece of solid aluminium billet, making them both light and very strong each one comes supplied with a marine-grade stainless steel bolt snap.
This is moving away from a traditional Finger Spool that to date are normally made out of some form of plastic. Delrin is the most common material to use for finger spools as it is very strong and is only slightly negatively buoyant. There are some finger spools that are constructed out of aluminium which are strong, but a little more negatively buoyant than Delrin. Some maybe made out of plain plastic. These are not very strong and can break easily.
As you can see, the finger spool have holes along each side of it. These holes are used to lock a double ender bolt snap onto the spool. This allows the line to be secured and a place to store the double ender. There is also a hole cut through the centre of the spool. This allows divers to be able to grip the spool while it spins without having to fully pinch it. We should never stick our fingers into this hole while it is spinning. The spool can snag on our fingers and take a diver on a fast ascent. Most finger spools will come with a double ender bolt snap to secure the line to the spool.
Uses for a Finger Spool Finger spools can have a variety of uses. The most common uses of them. Deploying a SMB; when scuba divers need to mark their position in the water column or need an ascent line, they may deploy a DSMB (Delayed Surface Marker Buoy). When deploying the DSMB, a line must be attached to the DSMB. This is where the finger spool comes in. It is small enough to stow in a dry suit pocket and can hold enough line such that divers can shoot a bag and use the line.
Update 1st March 2015
I was given the purple 15M reel for my Birthday by my one of our instructors (thank you Dave)!

Having now used this a few time over the winter, no getting away from it, it's a great spool the line and the alloy its made from are of great quality and the colour finish is welcome to a very black world of scuba kit.
When diving in cold water with either mitts or dry gloves this compact spool (purple) is too small so this is now going to become my travel spool and going for the either the blue or green for cold water diving. Will be checking the spool finger size with my dry gloves before I make the final decision.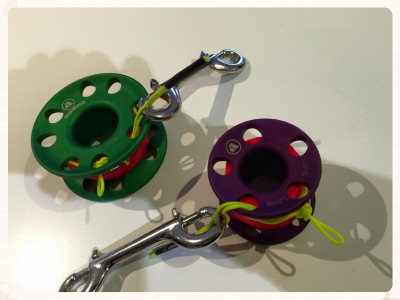 A few tips for you don't clip your snap bolt directly on to the spool they have a habit of unclipping and boom spool gone! Clip to the line (see photo) and it should be more secure and the little loop helps with pulling the line through when your hands are a little cold.
A great range of spools just make sure you select the right one for your application and don't be swayed by the colour! Every diver should have one of these in their kit bags

I welcome your questions or comments.